March 2005
As their record releases loom, Ad Frank & the Fast Easy Women and Great Lakes Myth Society are hitting the road to bring the music to all you good people.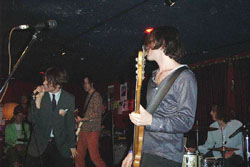 Ad brings his wily band out of the New England area for the first time in a while on a jaunt that will be bringing them to new cities along with trusted stomping grounds. It all gets started March 12th at The Brass Rail in New London, CT. Check out the tour page for details.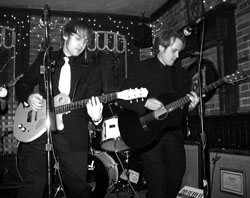 Great Lakes Myth Society are keeping things a little closer to home until after the album's release, but they've got a handful of great shows in Ann Arbor and Detroit, including their record release shows at the Blind Pig in Ann Arbor on March 10 and in Detroit in April. You don't want to miss those!
Meanwhile, Rooftop Suicide Club will be returning to Bridge Street Station in Fairhaven on March 12 and to the Abbey Lounge in Boston in April. Again, check out the tour page for details.
February 2005
We here at Stop, Pop, and Roll are very excited about our spring lineup of releases. And now, as promised, we present to you three exclusive tunes - one from each artist. They are streaming for now, but we will be making free MP3s available as the release dates near.
Be sure to let us know what you think of the tunes by posting on the bands' Discussion Boards or sending us an e-mail. Here's what we've got for ya:
Launch the Player (Flash Required)

January, 2005
Here's a sneak peek at Stop, Pop, and Roll's new release schedule for Spring 2005. Check back on February 1 for some exclusive MP3 previews!
Great Lakes Myth Society
Out March 29

5 young men from Ann Arbor, MI with a shared love of passionate, timeless music and the legends of the land in which they were raised come together and share with us 15 elegaic songs of love, hope, bravery, loss, and of course, death.

Ad Frank Is the World's Best Ex Boyfriend
Out April 12

Ad's third album for Stop, Pop, and Roll mixes up all the best aspects of Mr. Fancypants with the precise new-wave fueled pop of In Girl Trouble, resulting in arguably his finest album yet.

Rooftop Suicide Club, Always Like This
Out May 17

The first album from New Bedford, MA's finest features a diverse mix of indie rock aesthetics, Big Star-worthy hooks, and a touch of 8-track era nostalgia. It's bound to be one of the most talked-about debuts to hit stores in a long, long time.
December, 2004
Season's Greetings from Stop, Pop, and Roll! We've had a very busy fall, so the gifts will be a little bit late this time around, but well worth the wait. But, looking back on 2004, we're pleased to announce that SP&R artists, and indeed the label itself, are up for nominations in Boston's Noise Poll. Kindly head over and consider a vote for Paula Kelley (& orchestra member Angie Shyr), Fast Easy Woman Eric Donohue, and Stop, Pop, and Roll!
Early 2005 will see releases from Great Lakes Myth Society, Ad Frank & the Fast Easy Women, and Rooftop Suicide Club! Ad's fourth solo album is his strongest to date, bringing together the dark cynicism of Mr. Fancypants with the high-tech pop of the Fast Easy Women. The highly-anticpated debuts from great Lakes Myth Society and Rooftop Suicide Club herald a new era for us, as we welcome our first bands to the label (previously we have only released albums from solo artists). Check out each of their pages on our site and then click over to their own sites for more. We're thrilled about all these releases and will be posting some teasers and more information in the coming weeks.
November, 2004
The Paula Kelley Orchestra performed at Irving Plaza in New York for a special Halloween show with the Smithereens and Glen Tilbrook, among others.
New albums from Ad Frank, Great Lakes Myth Society, and Rooftop Suicide Club are complete! We will be announcing release dates and tour info very soon.
October, 2004
Paula Kelley and Ad Frank were each nominated for a Boston Music Award or two. Thanks to everyone for your votes!
March 26, 2004
Ad Frank's remixes/rarities CD A Lotta Devotion is finally here and ready for your consumption! Head over to the store to get yours. While you're there, check out our new prices and fabulous BARGAIN BASEMENT. You'll want one of each, we swear!
Catch Stop, Pop, and Roll bands LIVE!